Frankford News 2019
Winners Announced for the 2019 Holiday Ornament Contest!
Congratulations to the winners of our 1st Annual Holiday Ornament Contest!
Santa's elves have chosen one child and one adult winner from each category:
Most Original Ornament: Brody Many and Faith Radimer
Best Recycle/Re-Use Material Ornament: Sarah Radler and Shannon DiFilippo
Best Nature Ornament: Meadow Davis and Susan Miller
Winners may pick up their prizes at the Municipal Building on or after Thursday, Dec. 19
th
between 8:30 a.m. and 4:00 p.m. If you would like your ornament returned you make pick it up after the holidays. We will gladly keep ornaments to place on next year's tree.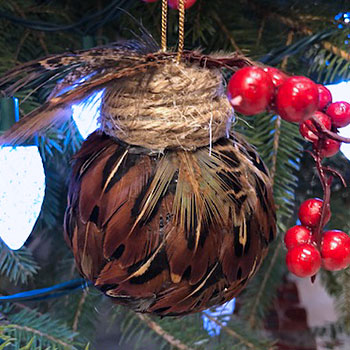 ---
Winners Announced of the First Frankford Township Photo Contest!
Junior Category - "Culi the Snake" taken by Julia Sieminski
Architecture - "Reflections of the Past" taken by Ingrid Langenbach
Frankford Park - "Flag on Field 3" taken by Jeannie Kobis
Fun at the Fair - "The Himalaya" taken by Jeannie Kobis
Lake Life - "Flying High" taken by Stacey Keller
Nature and Wildlife - "Bald Eagle" taken by Jim Dale
On the Farm - "Awaiting Spring" taken by Ken Sharrock
Grand Prize - Spring Kit Foxes Waiting For Mom" taken by Joan Wittrien.
Click on winning photo to view larger:
We would like to thank everyone who submitted pictures. All of the pictures are amazing! We would also like to thank Cailey Jewelers and the Frankford Township Economic Development Committee for supplying the prizes for the contest.
---
Fire Department Moves to New Firehouse
The fire department has moved into its new building. Click here to read the article published in the NJ Herald.
---
Frankford Resident Achieves Rank of Eagle Scout
Noah William Francois, a member of Boy Scout Troop 180, recently received his Eagle Scout rank, Scouting's highest rank. Click here to read the article published in the NJ Herald.