News and Announcements
Legal Notices
Free Radon Test Kits
Frankford Township has received the Radon Awareness Program Grant, which alows us to offer free radon test kits to our residents. The kits will be available at the Municipal Building beginning January 3, 2020, on a first come, first served, basis. For more information, contact the Deputy Clerk at 973-948-5566. Click here to download the Protect Your Family from Radon flyer.
Soil Importation Ordinance
Ordinance #2019-03, Amending Chapter XXVI Entitled "Soil and Soil Removal" was adopted on the second reading after a public hearing of the Mayor and Committee on April 9, 2019. Click here to read the 2019-03 ordinance.
Update to NJ Fire Code
Effective January 1, 2019 updates to the NJ Fire Code are in effect. These include updates concerning smoke alarms, carbon monoxide alarms, and fire extinguishers. Click here to read the notice from the Frankford Township Fire Prevention Office.
---
Announcements
Bridgework
Public notice from the Sussex County Division of Engineering: Bridge D-18 to be closed. This bridge is located on Fenwick Road and crosses over a tributary of the Papakating Creek. Click here for more information.
Pet Supply Drive
Help our furry friends. Donations to benefit local shelters and will be accepted at the Frankford Township Municipal Building and at Snips and Tails now through February 14. Top needs are dry cat food, canned cat food, canned dog food, clean bedding, bleach, toys, leashes, collars, towels, and paper towels. Monetary donations accepted!
Winners Announced for the 2019 Holiday Ornament Contest!
Congratulations to the winners of our 1st Annual Holiday Ornament Contest!
Santa's elves have chosen one child and one adult winner from each category:
Most Original Ornament: Brody Many and Faith Radimer
Best Recycle/Re-Use Material Ornament: Sarah Radler and Shannon DiFilippo
Best Nature Ornament: Meadow Davis and Susan Miller
Winners may pick up their prizes at the Municipal Building on or after Thursday, Dec. 19
th
between 8:30 a.m. and 4:00 p.m. If you would like your ornament returned you make pick it up after the holidays. We will gladly keep ornaments to place on next year's tree.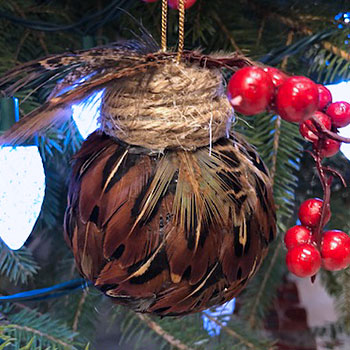 Winners Announced of the First Frankford Township Photo Contest!
Junior Category - "Culi the Snake" taken by Julia Sieminski
Architecture - "Reflections of the Past" taken by Ingrid Langenbach
Frankford Park - "Flag on Field 3" taken by Jeannie Kobis
Fun at the Fair - "The Himalaya" taken by Jeannie Kobis
Lake Life - "Flying High" taken by Stacey Keller
Nature and Wildlife - "Bald Eagle" taken by Jim Dale
On the Farm - "Awaiting Spring" taken by Ken Sharrock
Grand Prize - Spring Kit Foxes Waiting For Mom" taken by Joan Wittrien.
Click on winning photo to view larger:
We would like to thank everyone who submitted pictures. All of the pictures are amazing! We would also like to thank Cailey Jewelers and the Frankford Township Economic Development Committee for supplying the prizes for the contest.
Census Takers Needed
Join the 2020 Census Team, be a Census Taker. 2020 Census jobs provide: great pay, flexible hours, weekly pay, paid training. Apply online at 2020census.gov/jobs. Click here for flyer. For more information or help applying, please call 1-855-JOB-2020.
Website Privacy Policy
The privacy policy for the Frankford website has been posted on the website. Click here to read the website disclaimer.
Notice from Stephen Lance, Frankford Township Tax Collector:
Just a reminder to Frankford Township Taxpayers – The NJ Division of Taxation has mailed Homestead Benefit Applications to eligible recipients on September 14, 2019. You must file your application by phone or internet by December 2, 2019. The automated filing system telephone number is 877-658-2972. File on-line at www.njtaxation.org. The Tax Collector can also file your application at the Frankford Township Municipal Building from Mondays to Fridays from 8:30 a.m. to 4:00 p.m. Bring your mailer and amount of total income. You will be provided with a proof of filing receipt.
Clean-Up with Clean Communities
Seasonal clean-up is underway with the Frankford Township Clean Communities. This is a great way for non-profit organizations, sport teams, PTAs, senior groups, etc. to earn money for the group. Contact Diane Brauchle at frankfordcleancommunity@gmail to schedule your clean up!
---
In the News
Fire Department Moves to New Firehouse
The fire department has moved into its new building. Click here to read the article published in the NJ Herald.
Frankford Resident Achieves Rank of Eagle Scout
Noah William Francois, a member of Boy Scout Troop 180, recently received his Eagle Scout rank, Scouting's highest rank. Click here to read the article published in the NJ Herald.
---
Events
No events at this time.